National Children's Dental Health Month is celebrated every February
Brought to the public by the ADA, the month-long national health observance brings together thousands of dedicated professionals, healthcare providers and educators to promote the benefits of good oral health to children, their caregivers, teachers and many others.
Child and Adolescent Oral Health
Taking care of your child's teeth and gums is important. Healthy mouth and teeth are an important part of a child's overall wellness. Speech, the ability to concentrate and learn, nutrition and self-esteem are directly tied to the condition of the mouth. Untreated tooth decay in children and teens can cause pain and infections that may lead to problems with eating, speaking, playing, and learning. Tooth decay is one of the most common diseases affecting children and teens. It is more common than hay fever or asthma.  
According to the Center for Disease Control (CDC):
About 1 of 5 (20%) children aged 5 to 11 years have at least one untreated decayed tooth.
1 of 7 (13%) adolescents aged 12 to 19 years have at least one untreated decayed tooth.
The percentage of children and adolescents aged 5 to 19 years with untreated tooth decay is twice as high for those from low-income families (25%) compared with children from higher-income households (11%).
There is good news…tooth decay is preventable! Parents and caregivers should reinforce home care habits that include brushing teeth twice a day with a fluoride toothpaste, cleaning between teeth daily, limiting starchy and sugary foods and drinks, and going to the dentist regularly. These positive habits can go a long way in preventing tooth decay! Adding a dental professional as a resource to your medical support system can provide ongoing peace of mind for your entire family.
Ask your medical or dental provider about other preventive interventions including:
fluoride varnish, a high concentration of fluoride that is painted directly on teeth;
fluoridated tap water, available through public water systems; and
dental sealants, a protective seal that is applied to the chewing surfaces of the back teeth.
According to the CDC, "Dental sealants are thin coatings that when painted on the chewing surfaces of the back teeth (molars) can prevent cavities (tooth decay) for many years. Sealants protect the chewing surfaces from cavities by covering them with a protective shield that blocks out germs and food. Once applied, sealants protect against 80% of cavities for 2 years and continue to protect against 50% of cavities for up to 4 years." The South Carolina State average for children assessed with a sealant present is 27.17%. 
Did you know that South Carolina Healthy Connections Medicaid covers some dental care services for adults and children, one of them being dental sealants among others?
Download the dental benefits PDF to learn more.
Typically, children should get sealants on their permanent molars as soon as these teeth come in. In this way, the dental sealants can protect the teeth through the cavity-prone years of ages 6 to 14. Here is a condensed list of where to get dental sealant services:
Download Flora and Floppy Resources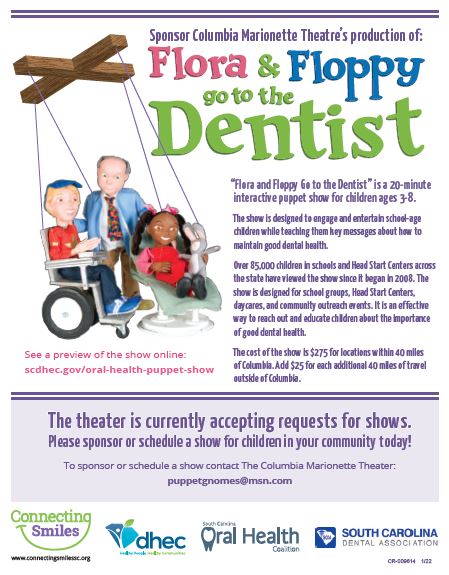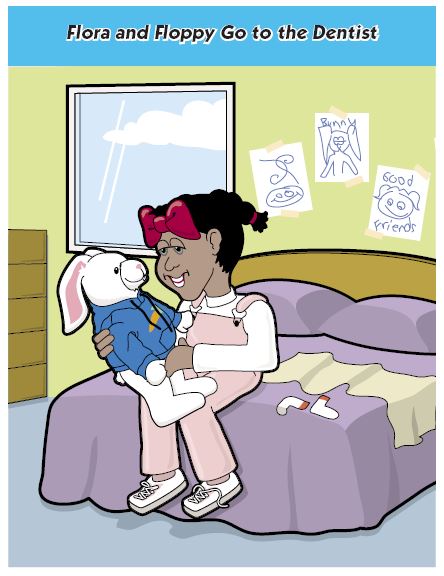 "Flora and Floppy go to the Dentist" is a 20-minute interactive puppet show for children ages 3-8. This unique initiative was created as a result of an American Dental Association (ADA) grant that funded the theater to create a traveling puppet show.
The show debuted in the fall of 2008 to over 300 kids at a "Back to School Bash held at the S.C. State Fairgrounds. As of 2021, the show has been seen by more than 85,000 children at schools and Head Start Centers across the state.
"According to the 2018 Oral Health Needs Assessment (OHNA), 40.5 percent of South Carolina children in kindergarten and third grade have experienced tooth decay," said Raymond Lala, director of DHEC's Division of Oral Health. "The show is a great way to reach children across the state with oral health messages while they are being entertained. The value of this approach is that children learn key concepts about taking care of their mouths and teeth without even realizing that they are learning!"
Some of the messages highlighted in the show include:
 Brushing and flossing teeth
 Going to the dentist
 Getting dental sealants
 Eating healthy foods and limiting sugary foods and drinks
 Drinking fluoridated water
The Columbia Marionette Theater is currently accepting requests for shows. The performances are designed for large groups of students. There are a limited number of free shows offered annually on a first come first serve basis during the month of February. The cost of the show is $275 for locations within a 40-mile radius of Columbia. Add $25 for each 40 miles of travel outside of Columbia.
For more information on scheduling a show, contact the theater directly at (803) 252-7366 or via email at puppetgnomes@msn.com.
Oral Health Message Videos for Students and Teachers
The Columbia Marionette Theater in collaboration with the SC Dental Association and through funding provided from MUSC James B. Edwards College of Dental Medicine through Grant #HRSA/Bureau of Health Professions (T12HP28882) as part of DHEC's Division of Oral Health's POWER Pee Dee Project, has produced videos for school-age children to share valuable information about oral health.
DHEC School-based Dental Prevention Program
The South Carolina Dental Practice Act 2003 established the South Carolina Department of Health and Environmental Control's role in coordination of a public health dental prevention program using public-private partnerships to deliver preventive dental services in public health settings including schools that address the needs of priority populations identified by DHEC using standard public health principles. Section 40-15-110 of the Dental Practice Act refers to DHEC and the delivery of preventive dental services through a public heath dental prevention program. The South Carolina Dental Practice Act 2003 can be accessed at: http://www.scstatehouse.gov/code/t40c015.php The setting for which DHEC has established a public health dental prevention program is the South Carolina's public schools.
The providers that are currently engaged in a partnership with DHEC to deliver these services for the 2021-2022 school year include:
Childhood and Older Adult Oral Health Message
Oral Health Standards-based Supplemental Curriculum Guide for Grades 1st-2nd and 3rd-5th 
This supplemental curriculum guide contains standards-based lessons and activities designed for elementary students and can be accessed at http://scdhec.gov/sites/default/files/Library/ML-025253.pdf. The lessons are intended to engage children in hands-on, literacy-driven activities that teach them how to take care of their teeth and help them understand why it is important to do so. The booklet also reinforces the importance of choosing healthy foods and encourages students to keep their smiles safe and injury free. The guide is divided into two sections that include appropriate material for Grades 1-2 and Grades 3-5 as well as take home information for parents.
What we do
The Connecting Smiles initiative aims to improve oral health of the citizens of South Carolina by strengthening the linkage between individuals, community-based programs and medical and dental providers.
Contact Info
South Carolina Department of Health and Environmental Control
2100 Bull Street, Columbia, SC 29201
803-898-0194